Long Island Divorce Attorneys
Expert Guidance for Those Getting Divorced in NY
Making the decision to file for divorce is difficult. Following through can be even more complex and emotionally exhausting, particularly if you have children. That is why you need a divorce lawyer in Long Island who can handle your case with compassion as well as efficiency.
At Friedman and Friedman, we understand what you are going through, and want to be there to help guide and support you through the entire process. We have helped many individuals going through this life changing time, and understand the importance of giving each cause the unique attention that it requires.
As a mother of two with over 35 years of legal experience and a legal practice devoted exclusively to matrimonial and family law, Attorney Sari Friedman has exceptional knowledge and familiarity with New York divorces and all of the issues a divorce involves. This includes matters such as:
Attorney Friedman and her team help clients in Long Island, New York City, and across New York State. No matter where you are in the process of dissolving your marriage, get a caring and capable advocate on your side.
On This Page:
Filing for Divorce in Nassau County
As of 2010, you no longer need grounds for divorce in New York. Rather, New York is what is referred to as a "no fault" divorce state, meaning that you can file for divorce simply based upon "irreconcilable differences." Many people still file for divorce based on matters that used to be required grounds for divorce, however.
In New York, "irreconcilable differences" can mean almost anything, including:
Adultery
Abandonment
Cruel and inhuman treatment (abuse)
Legal separation
Imprisonment
Once you have decided that divorce is best for you, the next step is to fill out the appropriate forms. It is vital to have the guidance of a divorce specialist when completing these forms, since these documents will directly affect any decisions for property division, child support, alimony, custody, etc. You will then file these forms with the clerk at the Westchester County Court.
Is a Lawyer Required for Divorce in Long Island, NY?
While no law specifically states that a divorce in New York requires legal representation, there are many advantages to retaining a divorce attorney in Long Island. Our divorce specialists on Long Island understand that divorce is tough both emotionally and psychologically.
We provide you with the following benefits when our services are retained:
Superior knowledge of family law - we have decades of trial experience and understand the intricacies involved with complex divorce matters.
Less human error: due to a divorce being as exhausting as it can be, we provide a sense of "level-headedness" if emotions impede your judgment. We also tend to the documents and court papers that you are responsible for completing. These can add up and cause confusion. Along the way, we will help educate you and answer any questions you may have regarding these legal documents.
Alternatives: More often than not, there are multiple ways to end your divorce. These can be done amicably and through proper negotiation. While our Long Island divorce lawyers have no issue taking your case to litigation, it's always in your best interests to settle outside of court. We have the experience necessary to provide you with a variety of pathways which we include when preparing your case.

Realistic expectations: We help keep your attention on what issues are worth pursuing. In the heat of a divorce, it's not uncommon for spouses to "go for it all". However, this can backfire badly, which is why we tailor a plan specific to you and go after what is reasonable and attainable.
How Long Does a Divorce Take in NY?
In New York, there is no formal waiting period for a divorce decree to be entered by a judge. This means that New York State uncontested divorces can be finalized in a matter of weeks as long as both parties are able to complete and file the necessary paperwork and pay all fees in a timely manner. They need only wait for a court appointment to present their divorce decree to a judge to be entered and the divorce finalized.
Contested divorces in New York can take much longer, whether it be several months, a year, or more. The length of a contested divorce case depends on court schedules and how long it takes a judge to come to final decisions on each aspect of the divorce, such as property division, custody, support, etc.
Want to make sure your divorce is as quick, smooth, and cost-effective as possible? Call Friedman & Friedman PLLC, Attorneys at Law today at (516) 688-0088 to learn how we can help.
What Are the Grounds for Divorce in NY?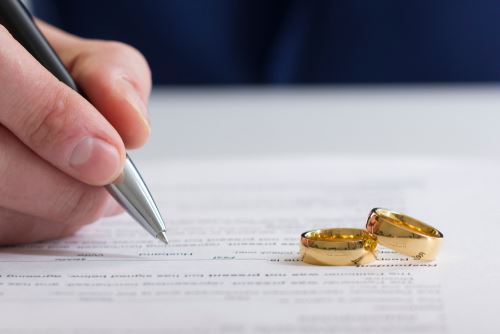 ​As of August 15, 2010, New York Divorce Law has changed. A person is now entitled to allege that the marriage has been irretrievably broken for at least six months and that person can then obtain a divorce. For more information about how the change in the law might affect you, please don't hesitate to contact our firm today.
The other six grounds for divorce in New York include:
Cruel and Inhuman Treatment: Cruel and inhuman treatment is a clear reason for divorce in the state of New York. This category can involve a wide variety of verbal and physical assaults. This reason for divorce can cause a petition to be granted quickly and often results in the victim receiving much of what they want in a divorce settlement.
Abandonment: One married partner cannot simply abandon their partner for long stretches of time in the state of New York. Such abandonment can easily be grounds for divorce in the state. An individual would have to bring convincing proof to a judge that their partner had been away for a significant period of time in order to win a divorce on these grounds. The question of locking out another spouse can also lead to a divorce on the grounds of abandonment. One partner must think carefully and act cautiously if they are ever considering locking their partner out of a jointly owned house.
Imprisonment: If a spouse has been in jail for three or more years in a row beginning after marriage, there is a ground for divorce. Once your spouse has spent three consecutive years in jail, you can file for divorce while they are still in jail or up to five years after they are released from jail.
Adultery: Adultery is no longer considered a crime in New York. But it can still be a grounds for divorce. The act of adultery involves a betrayal of trust that strikes at the core of most marriages. This scenario, if proven, can be incredibly influential for a judge who is making decisions surrounding a divorce. Proving adultery can be difficult, however. It only holds up if there is significant evidence for the affair and proof that both parties did not accept the affair in advance.
Divorce After a Legal Separation Agreement: A separation agreement involves both parties signing on to a statement declaring that they have been separated for a significant period of time.
Divorce After a Judgment of Separation: A judgment of separation is a determination by a judge that two people have been separated for an extended period of time. This judgment often emerges when one member of the divorce fails to respond to a motion from the court or the other party in the divorce. Such a decision leads to the judge agreeing with the filing party and making a judgment stating that he or she believes that both parties have been separated for a significant period of time.
How Much Does a Divorce Cost in New York?
Initially, your cost will be influenced by whether your divorce is contested (challenged) or uncontested (agreed upon). An uncontested divorce can cost far less, depending on how you handle your negotiations. A contested divorce will bring you to court, increasing the cost significantly.
When your divorce goes to court, you are paying for all the work your divorce lawyer does. This includes all meetings. Within the trial, your attorney may conduct investigations, introduce evidence, question witnesses, and more. The time spent in court is charged as well. Moreover, you may be asked to pay your spouse's attorney fees, depending on each spouse's financial circumstances.
If you and your spouse can work together, making all necessary decisions without conflict, you have only court and filing fees. This, however, is an unrealistic expectation for many divorcing couples.
You may be more successful with mediation. In this process, you will pay a neutral, legal processional to help you negotiate the terms of your divorce. All necessary decisions will be made together, and your mediator can help you communicate when negotiations break down. This will add to the cost of your divorce, but it will be far less expensive than going to court. Our firm can help with mediation, facilitating these talks.
The most expensive option in an uncontested divorce is a collaborative divorce. In this process, each spouse has their own divorce attorney, but everyone works together. Spouses meet with their individual attorneys, expressing their needs. Afterward, all parties meet to hammer out the details. You can also bring in financial experts, child psychologists, and other mental health professionals, adding to your expense. This process is not cheap, but the result can be emotionally satisfying. If you can afford it, we recommend this option for your uncontested divorce.
All divorcing couples can expect the following expenses in New York:
Index number (official number placed on all your files): $210
Uncontested divorces, at the bare minimum, cost at least $335
On average, a New York divorce costs $17,100
You may qualify to waive court fees, depending on your financial hardship.
Our team is ready to work with you. We may be able to negotiate a fee with you, allowing you to move forward with less worry.
Is New York a 50/50 Divorce State?
The state of New York divides property equitably, not necessarily a split down the middle. During the divorce proceedings, if either spouse contests the division of property, a judge may step in to evaluate the property and divide based on what is considered marital assets and/or debts. Separate property will not be included.
Separate property consists of:
Property either spouse acquired before marriage
Inheritances or gifts
Property deemed separate property that was established in a prenuptial or postnuptial agreement
Compensation for personal injuries to either spouse
Property acquired from the proceeds or appreciation in the value of a separate property unless that appreciation was due to the efforts and/or contributions of the other spouse
Factors that impact marital asset and property division include:
Duration of the marriage
Age and health of each spouse
Income of each spouse
Each spouse's separate property
If the parent with custody of the children will need to reside in the family home
Uncontested Divorce – Court May Not Be Necessary
Most people think of heated courtroom battles when they think of divorce, but the truth is that most divorces are settled outside of court. Mediation and collaborative law are two means of getting a divorce decree when the matter is uncontested.
Mediation is when both parties in a divorce are guided by a neutral, third-party mediator as they work out the terms of their divorce agreement together. Collaborative divorce is when each party retains their own divorce attorney in Long Island, NY for counsel, but still, meets outside of court to negotiate each aspect of their divorce agreement.
Usually, the only time the parties must step into a courtroom during a New York State uncontested divorce is when they present their divorce agreement to a family law Judge to be entered and finalized.
Mediation is when both parties in divorce are guided by a neutral, third-party mediator as they work out the terms of their divorce agreement together. Collaborative divorce is when each party retains their own divorce attorney in Long Island, NY for counsel, but still meet outside of court to negotiate each aspect of their divorce agreement.
Usually, the only time the parties must step into a courtroom during a New York State uncontested divorce is when they present their divorce agreement to a family law Judge to be entered and finalized.
Do you both want a divorce in New York? Learn more about out-of-court options: (516) 688-0088.
Answering Frequently Asked Questions About Divorce
Retain Award-Winning Representation
Founding attorney Sari M. Friedman is recognized for professional excellence not only by her clients, but also by her peers in the legal community. This is reflected in the long list of honors, awards, and accolades she has received over her three decades of practice as a matrimonial and divorce lawyer in Long Island, NY.
Attorney Sari Friedman's honors include, but are not limited to:
2012 Leadership in Law Award, Long Island Business News: The Leadership in Law Award recognizes experience, dedication, hard work, skill, tenacity and excellence as qualities for this prestigious award and is dedicated to those individuals whose leadership, both in the legal profession and the community has had a positive impact on Long Island.
2014-2018 New York Metro Super Lawyers®: Super Lawyers® is a designation given to only 5% of the attorneys in New York State.
2015 Long Island's Top Rated Lawyers, Legal Leaders: Long Island's Top Rated Lawyers is a distinction only given to those who have achieved the prestigious Martindale-Hubbell® AV Preeminent® rating.
2016 Family Business Award, SmartCEO: SmartCEO's Family Business Award recognizes the legacy of Sari's law firm, as well as her core family values and perseverance to serve generations to come.
Additionally, Sari has been recognized by the Long Island Power Women in Business for her devotion to the Long Island community through her legal efforts.
Attorney Friedman has also been named to the following prestigious lists:
National Advocates Top 100 Lawyers in Matrimonial & Family Law
Who's Who Top Attorney in North American
Who's Who in American Law
10 Best Family Law Attorneys in New York for Client Satisfaction, AIFLA
Attorney Andrea B. Friedman – a named partner of the firm – has been awarded the 2016 Millennial Award from Long Island Business News, which demonstrates her powerful abilities among other young professionals. She has also been presented with the 2016 Stars Under 40 Award from Star Network.
Tailoring Your Case to Meet Your Unique Needs
The attorneys at Friedman & Friedman PLLC, Attorneys at Law are dedicated to providing families with experienced, professional and personalized legal representation through every step of the New York divorce process. Our team treats each client with the utmost importance and strives to obtain results through skilled legal counsel, all at an affordable cost.
Contact us today to consult a recognized and trusted Long Island, NY divorce attorney.
Where to File for Divorce on Long Island
Related Reading: